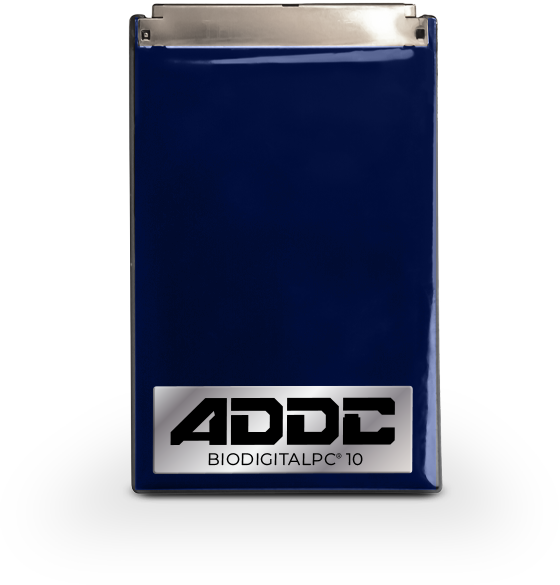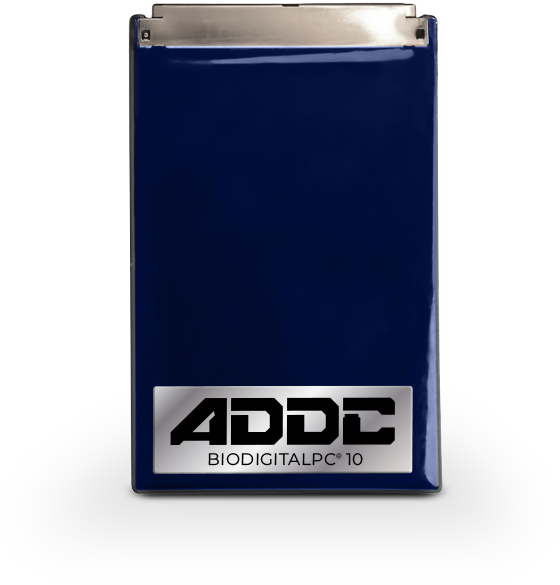 FEATURES
---

 84mm x 54mm x 6.5mm

 2oz

 15 watts
Arnouse Digital Devices Corp. (ADDC) is proud to bring you the BioDigitalPC® 10, our 6th generation BioDigitalPC® x86 computing platform. The BioDigitalPC® 10 family of computers are a credit card sized computing platform equipped with an Intel 7th generation i3, i5 or i7 CPU, up to 8GB of DDR4 and 128GB of ultra-fast SanDisk SSD.
Green by Design
The BioDigitalPC® 10 is powered by 5VDC and consumes between 10W and 15W. It uses less power and eliminates e-waste more than other comparable systems and requires no chilled cooling.
Versatile and Rugged
The BioDigitalPC® 10 is able to run any x86 operating system including Windows, Windows Server, VMWare ESXi, LINUX, CentOS, RHEL, Ubuntu. It is fully compatible with older BioDigitalPC® docking stations and is ready to provide a mobile computing experience with just a moment's notice. The card is hot-swappable and contains built-in graphics. All BioDigitalPC® cards have a waterproof, dustproof, fire-resistant, rugged, epoxy coating. Ringed with anodized aluminum, BioDigitalPC® cards are able to resist the worst operating conditions. Whatever your application may call for, the BioDigitalPC® cards stand ready to provide a high-quality, rugged, micro-form factor computing solution.
| | | | |
| --- | --- | --- | --- |
| SKU | ADDC-PC10A-4-128 | ADDC-PC10B-8-128 | ADDC-PC10C-8-128 |
| Processor | i3-7100U | i5-7300U | i7-7600U |
| # of Cores (Threads) | 2(4) | 2(4) | 2(4) |
| TDP (CPU/GPU) | 15W | 15W | 15W |
| USB 2.0 | 4 | 4 | 4 |
| USB 3.0 | 1 | 1 | 1 |
| PCIe | (2) x 1 Gen 3 | (2) x 1 Gen 3 | (2) x 1 Gen 3 |
| CPU Tjunction | 100˚ | 100˚ | 100˚ |
| DDR4 RAM | 4GB | 8GB | 8GB |
| SSD | 128GB | 128GB | 128GB |
| TPM | 2.0 | 2.0 | 2.0 |
| vPro Support | ✓ | ✓ | ✓ |